Do you find it difficult every time you try to access the contents of your favorite jar of pasta sauce, jelly, olives or pickles? I guess you do. Well, you have no reason to struggle anymore. The solution lies in the best jar opener.
Jar openers come in many varieties differing in sizes, styles, and prices. Besides, you can choose to buy either an electric or manual options. While such variations are great in meeting the different needs of the population, they also cause many challenges resulting in poor choices.
Such challenges are not to worry you any more. This review aims to provide you with top 10 recommendations each of which will make easy the work releasing even the hardest of vacuum sealed lids. These jar openers are great for seniors with weak hands as well as those with arthritic hands.
What's The Job of Jar Openers?
Generally, these gadgets are designed to solve three major problems associated with opening a vacuum sealed container. They are designed to help with grip, the need for strong arms and hands as well as the need for strength and leverage. Jar openers can also be categorized depending on the particular problems they are designed to solve.
Top 10 Best Jar Openers
We have selected the top cream of jar openers. We have reviewed them independently to give you an idea of why they make it to the top. Check them out:
EZ OFF Jar Opener White- Best Jar Openers for Seniors
EZ Off is the way to go if you are looking for the best jar opener for arthritic hands. It is an overhead, space efficient opener that has the capacity to open lids of all makes and types. It is an especially a great choice for the seniors, individuals with joint problems as well as amputees.
It is a grip type of jar opener that can hold any lids – sticky, childproof, tamper-proof or vacuum sealed. The opener is effective on anything small like a bottle of nail polish, water or even larger lids such as containers of peanuts, pickles, canned fruits, molasses, jam, maraschino cherries or marshmallow creme.
The beauty of this jar opener is the ease associated with installation and operation. This is made possible with pre-attached, peel/stick adhesive and three included screws. Because of these features, the opener is ideal for the elderly, small children, those with arthritis, those with carpal tunnel syndrome and those with limited limb functionality.
Its sturdy design means you can neatly hide it out of the sight of your guests under the cupboard, cabinet, shelf or counter. In other words, it will not take any appreciable space within your kitchen or clutter your work area.
Special Features
Opens all types of lids
Great for those with arthritic hands
Suits the need of both children and adults
Sturdy design makes easy storage
Easy to install and use
Kuhn Rikon The Gripper Jar Opener
The Kuhn Rikon is one of the best clamp-and-lock jar openers you can ever find in the market. It conveniently locks into any lid measuring between 1 and 3.5 inches in diameter. While the head is an efficient gripper, the handle works to provide leverage to help you open lids with very little effort.
It's an awesome gripper jar opener that works perfectly on both grooved and smooth-sided caps. Kuhn Rikon is versatile; you can use it on a variety of containers ranging from soda cans to medicine bottles. The little machine is made from heavy-duty plastic for strength and resilience. A great design feature that helps with storage is a hole in the handle with which you hang the tool while not in use.
This awesome machine is incredibly easy to use. Just place the opener over the jar and rotate its turn knob clockwise. This works to tighten the jaws on to the jar lid locking the opener into place.  Hold the bottle or jar securely, reach for the handle and push the opener counterclockwise to open. You can then loosen the knob to release the lid.
Special Features
Sturdy, heavy-duty plastic construction
A convenient built-in hole for hanging
Works great on both smooth and grooved lids
Easy to install and use
Wiping with a dry cloth is all the care it needs
Hamilton Beach Jar Opener- Best Automatic Jar Opener
The Hamilton Beach is perhaps one of the best automatic jar openers you will ever find in the market. It features a futuristic design and a performance that is well ahead of its time. It is capable of opening a wide variety of jar sizes. No lead is too wide for it and no jar is too tall for it. Specifically, it opens lids from 1 inch to 4 inches in diameter.
Hamilton Beach operates so easily. A simple press of a button activates its powerful twisting mechanism, tightens around the lid and loosens it. Pressing the releasing button ends the process. Automatic mechanism means you do not use any efforts to open a jar. This makes the opener a great one for individuals who are unable to use their hands to open bottle, jar or can lids.
It is made of high-quality materials and specially built for extended term durability. The compact design also means easy storage in a cabinet or a drawer. The jar opener uses two AA type batteries. The package you get when you buy Hamilton Beach jar opener includes the 2pc batteries. The battery can power the opening of 250+ lids before requiring replacement.
Special Features
Easy push-button opening
Electric jar opener with automatic function
Compact for easy storage
Opens a large variety of lids from 1 inch to 4 inches in diameter
Built with high-quality materials for durability
PreDeux Blue Jar Opener
The Blue Jar opener will help you open lids of all sizes from those of small soda and medicine bottles to wide containers of pickles and the like. It is so versatile. It can help you open even the tightest lids that have proved impossible to open without assistance.
More interesting is the fact that the opener is extremely easy to install and use. Even children and aged adults can install it use it with ease. This feature makes it perfect for senior men and women suffering from fibromyalgia, arthritis, or other forms of joint pain. It is also a prime choice for persons with limited functionality of their hands and amputees.
The opener comes with a pre-attached, peel/stick adhesive and three screws. Once you lock it into place, effortless counterclockwise turn opens the lid. Children can use this manual jar opener without harming themselves. Besides, it does not strain hands in any way.
Do not worry if you do not have enough storage space or you do not want people to know you are using the Blue Jar opener. Its sturdy design means you can neatly tuck it away under your cupboard, cabinet, shelf or counter.
Special Features
Capable of opening jar lids of all sizes
Suitable for children and elderly users
Great jar opener for arthritic hands
Easy setup and operation
Sturdy design for easy storage and durability
Black & Decker JW200BM Jar Opener- Best Electric Jar Opener
The JW200BM jar opener from Black & Decker is potentially the best electric jar opener currently in the market. Although it might be a little expensive, it is suitable for releasing even the toughest and most difficult sealed caps and lids. It works fast and efficiently to reveal the contents of the container.
Its design is unique. It features a sturdy upper housing and a lower turntable capable of accommodating a wide variety of containers measuring up to 8 inches tall and 4.5 inches in diameter. Most food, beverage and medicine bottles/cans pry opens with this lid off jar opener. This means it is suitable for use in opening all vacuum sealed lids even the hardest.
How does this lid off jar opener work? It simply cradles a jar in its bottom turntable and then grips the lid when you lower its up housing. Once the can, jar or bottle has been gripped tightly, push the power button and the lid will be twisted free.
This engineering marvel is specially designed to help you open both metallic and plastic lids. Although used for everyone, the opener is ideal for those with arthritis or weak hands. Keep in mind that the jar opener is not intended for use with very narrow neck beer bottles or tall juice jars.
Special Features 
One-hand operation is great
Electricity powered for easy lid opening
Designed for use with plastic or metallic lids
Helpful for those with weak or arthritic hands
Collapsible for space-efficiency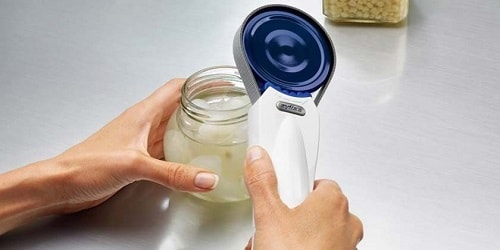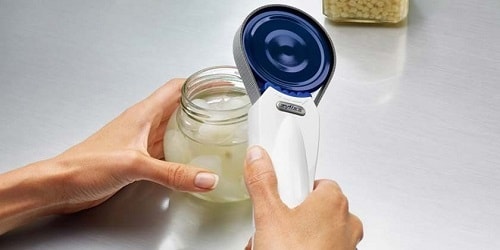 Robotwist 1014 Jar Opener
The unique feature that sets Robotwist jar opener apart is its hands-free operation. The operation involves a no-slip adjustable clamp that fastens itself around a wide variety of lids. It's among the few automatic jar openers that are capable of removing stubborn lids from leaking or wet containers.
Robotwist Hands-Free is battery-powered. Unlike other gadgets, it consumes very little energy making the two AA batteries to open hundreds of lids before requiring replacement. The fact that it uses two AA-size batteries and compact design make the jar opener easy to handle and store. It is also convenient. Since it does not use any blades or electric code, Robotwist is safe for use by children.
This device is so easy to operate. Simply position it on the stubborn lid then press a single-push button and see just how easy it rotates and uncaps. With such a straightforward operation, you do not even need instructions to use it for the first time. However, it comes with instructions so that you do not encounter any problems.
The jar opener only measures 7.2 inches in length and weighs a paltry 0.8 pounds. This means you can neatly hide it in any of the many compartments of your kitchen away from view. Despite its superior quality, Robotwist is one of the most affordable automatic jar openers.
Special Features
Compact, sturdy, lightweight and portable
Energy efficient (battery-powered by 2pcs of AA batteries)
Works perfectly on wet and slippery lids
Safe for kids and helpful to arthritic hands
Kichwit Stainless Steel Jar Opener- Best Jar Opener for Arthritis
The Kichwit jar opener was designed to help those with weak and arthritic hands to open jar lids. So far, it has proved to be great in doing what it was designed for and more. It is a very affordable kitchen addition that will help ease the challenges associated with opening tough lids.
The twisting jar opener is great for small and medium-size lids ranging from 1.2 inches to 3.7 inches in diameter. This includes a wide range of lids ranging from those of soda and shoe-polish bottles to those of canned food containers. It is not very easy to find such versatile jar opener at this affordable price.
Kichwit Arthritis jar opener is made of heavy-duty stainless steel with a sturdy plastic handle that is rust resistant and durable. If you buy this lids-off jar opener, you will get a free bottle opener keychain made of a high-quality aluminum alloy as a bonus.
Ease of use is another strong reason for choosing Kichwit. The clamp has steel teeth that grab the edges of the stubborn lid with a tight grip and holds it as long as the twisting action is ongoing. A simple twist of the plastic handle will open even the toughest vacuum-sealed lids.
Special Features
Rust-resistant stainless steel and ABS plastic construction
Strong, sturdy and durable
Easy to install and operate
Includes aluminum alloy bottle opener keychain as a bonus
Ideal for elders with arthritic hands
Leifheit Stainless Steel Lid and Jar Opener 
Featuring a unique design with extra-long handles, the Leifheit Stainless steel jar and lid opener is a great choice for stubborn lids. The wide set oval handles are uniquely designed to offer more comfortable and ergonomic handling especially by seniors or those with arthritis and fibromyalgia. It is also ideal for those with carpal tunnel syndrome and wrist injuries.
Leifheit jar opener is made of high-quality stainless steel which is rust-resistance and durable. It has gripping teeth that attach firmly to a variety of lids and effortlessly release them from the jar. Its hinged design means it can be adjusted to fit a wide variety of lid sizes.
The long handles offer users greater leverage thereby increasing their strength and popping jars open. While the gadget can be intimidating to look at, it is very easy to use. In fact, it is so easy to use that even children can easily pry open tough lids from bottles, tubes, and jars. Its black and silver finish fits well with other kitchen appliances. But its sturdy design also means you can neatly hide it out of view.
Special Features
Stainless steel construction is rust-free and durable
Extra long and wide handles for greater leverage
Ideal for seniors and individuals with wrist injuries and carpal tunnel syndrome
Hinged to adjust for lids of almost all sizes
The jar opener is dishwasher safe
Rtreek Jar Opener
Green in color, the Rtreek Jar Opener features a unique design and performance that makes it ideal for weak hands. It is designed to work effortlessly. It uses a lever principle which means you apply only a little effort which produced a huge force of output that twists the lid to open the jar. This makes it suitable for arthritic hands, the elderly with weak hands, those working in professional kitchens and for children.
Its anti-skid feature makes it an efficient jar opener. The antiskid capability is a function of its sharp teeth that are made of heavy-duty metal. The teeth firmly grip lid tightly and twist it for effortless release. The grip is tight regardless of the material of the lid. Thus it will tightly grab lids made of stainless steel, plastic or even tinplate.
Rtreek Jar opener has ergonomically designed handle that is comfortable and provides good grip. Its sturdy and compact design means you can carry it anywhere. That means it is suitable for outdoor activities such as barbecues and camping. There is a hole in the handle to ease the storage of the jar opener.  Simply hang it safely somewhere in your kitchen. It is also lightweight weighing only about 2.4 ounces.
Special Features
Lever principle of mechanism offers an effortless use
Antiskid teeth increase operational efficiency
Ergonomic and comfortable handle
Lightweight for easy portability
Swing-A-Way Adjustable Jar Opener
They say old is gold. It is very true with Swing-A-Way adjustable jar opener. This classic brand has been there for a long time. It has remained in the shops for a reason. However, you will need a single strong hand in order to operate it. This means it may not be suitable for people with arthritis or weak hands.
Swing-A-Way provides more leveraged twisting which minimizes the effort needed to open tough lids. It also uses spring-loaded power for very smooth and effortless operation. Being adjustable means the jar opener can work on a wide variety of sizes from tiny nail polish lids to large wide-mouthed jar lids. It fits any jar lid up to 4.5 inches in diameter.
While using this adjustable jar opener, you have to be careful with your hand replacement. This is because it can pinch the skin of your hand causing an excruciating pain if you do not grip it correctly. However, the soft cushion grips offer tight and comfortable handling.
Stainless steel construction makes this gadget rust free and durable. Stainless steel is very easy to clean. All you need to do is hand-wash it with warm water and a detergent of mild concentration. Use clean water to rinse it and then dry it immediately.
Special Features
Works great for the tough, vacuum sealed lids
Strong and durable stainless steel construction
Spring-loaded for additional leverage
A recommendation of Cook's Illustrated
Adjustable to fit a wide variety of lid sizes
How to Choose the Best Jar Opener
I bet we are past the days when we had to improvise tools to help us open stubborn lids. Today with the invention of jar openers, you can simply buy one to help you deal with tough lids. Now that you have known a few of the best jar openers currently in the market, what should inform your decision to buy one? This buying guide will help you with decision making. Here are a few guiding principles.
Manual or Electric
Manual jar openers are powered by your efforts while the electric models are powered by either battery or electricity. Manual versions are understandably less expensive but are still effective. Most models feature butterfly wing design that twists to pry lids open. High-quality manual models have been ergonomically improved for ease of use.
Electric jar openers, on the other hand, come with more benefits for enhanced safety as well as ease of use. They eliminate all the effort necessary to pry open stubborn lids. However, they tend to be more expensive and bulkier. They vary in size, shape, and design. Some are equipped with add-on features for additional functionality.
Available Counter Space
While most jar openers are sturdy and compact in size, it is still challenging to find where to keep them in a busy kitchen. A suitable can opener should be able to fit well into your kitchen counter. It is comforting to know that several brands attempt to make their models as compact as possible in order to make their storage easy. Certain brands have holes on their handles to allow hanging when not in use. Choose wisely depending on the counter space you have in your house.
Grip Efficiency and Strength
The ability of a jar opener to do its job perfectly depends on the strength with which it grips the lid. A tight grip means the device will work efficiently. The strong grip also minimizes any chances of injury or damage to the mouth of the can. A strong grip is necessary in order to compensate for the lack of strength associated with weak and arthritic hands. Ensure the one you buy offers a strong grip.
Construction Material
Construction materials for jar openers include plastic or metal. Some models use both plastic and metal in their design. Stainless steel is commonly used because it is rustproof and strong. It is also durable. Heavy duty plastic is also strong and rust-proof. You have to be keen when purchasing plastic jar openers because some brands use cheap plastic which cannot stand the test of time.
Ease of Cleaning
It is not strange at times for the jar opener to come into contact with food. This requires that you buy a model that is easy to clean. A dishwasher safe model is way better because it is convenient. However, some models require simple wiping with a warm cloth with mild detergent. Rinsing and wiping dry will do the trick. Ensure you choose an easy to clean model if you want it to serve you for extended periods.
Quality of Handles
The handles of a jar opener should feature and comfortable and ergonomic design. The best handle is one that is made of stainless steel. Such is always comfortable and durable. The handle needs to have an ergonomic no-slip hold for optimal comfort. The high-quality handle also makes the tool easy to use by those with weak or arthritic hands. Children also can handle such jars with much ease.
Your Budget
How much have you set aside to buy a jar opener? These gadgets range in price from as little as $9 to over $150. The manual versions are among the cheapest while the automatic versions are the priciest. For a good quality manual jar opener, be ready to part with about $20. Make a wise decision if you prefer the electric versions. Always compare prices before you settle down on a particular model to buy.
Tips: How to Use a Jar Opener
Using a jar opener is straightforward. Actually, it is so simple that even the young children find it easy to a breeze to operate. Furthermore, many brands try as much as possible to simplify the use of their jar openers because such gadgets are meant to aid in completing a difficult task.
Using a Manual Jar Opener
To operate a jar opener of the manual type, you will need little effort. The appliance provides grip, strength, and leverage to open difficult, child-locked and vacuum sealed cans, bottles, tubes, and jars. Here are the general steps to follow:
Step 1: Place your opener over the jar. Most openers have a groove where different sized lids fit. Some require you to slide the jar lid until it grips the lid tightly. Locate the turn-knob of your jar opener (if it has one). If present, rotate it in the clockwise direction. This will tighten the jaws into the lid. The jar opener will then lock into place.
Step 2: You will require minimal strength to hold the bottle, jar, can or tube steadily and securely. Then grasp the tool's handle. Push the opener in the counter-clockwise direction. The lid will snap open with just a little effort.
Step 3: Once you feel the lid has opened, reach for the turn-knob to release the lid. After this, simply clean the jar opener if it got stained before storing it.
Using an Automatic Jar Opener
Automatic jar openers are powered by electricity either from grid via a cable or from batteries. The mechanism of operation; however, is more or less the same. Here is how to use it:
Step 1: Place your automatic or electric jar opener over the jar, bottle, can or tube. Adjust it to achieve a perfect fit if that is possible. Otherwise, press the engage button. High-quality models feature an inner arm and an outer arm. The outer arm offers a tight grip on the jar while the inner arm closes tightly on the lid and rotates it.
Step 2: You do not have to do anything. Allow the jar opener time to loosen the lid. The process does not require any effort and takes a second or so. Regardless of the stubbornness of lid, a good quality automatic jar opener will loosen it without any effort.
Step 3: Dial the release lid button or whatever it is labeled. Both the inner and the outer arms will automatically let go of the jar and the lid. After the release of the lid, most automatic jar openers have an auto-turn off feature. You can then store your jar opener safety for later use.
FAQ
Qn 1: What Is A Jar Opener?
Ans: A jar opener is a kitchen appliance that helps in opening tough and stubborn jars, cans, tubes, and bottles. It is especially helpful to individuals suffering conditions that limit the use of hands such as arthritis, fibromyalgia, carpal tunnel syndrome, and amputees. Most are designed to be used by the elderly who cannot mount enough effort to open tough lids such as the vacuum sealed food cans and child-locked medicine bottles.
Qn 2: What Is The Best Jar Opener?
Ans: The best jar opener must be able to eliminate the pain and frustration associated with attempting to pry open stubborn lids. It should work with a variety of lid sizes to give you the flexibility of opening different lids. Besides, it should not be complicated to use so that the elderly and children can also use it comfortably.
Qn 3: What Are The Common Uses Of The Best Jar Opener?
Ans: A good quality jar opener must be versatile when it comes to uses. It should be able to open stubborn lids of peanut butter jars, jam and jelly jars, pickle jars, nail-polish, medicine bottles fitted with child-locks, car product bottles, new bottles protected with plastic wrappers and gardening chemical bottles among others.
Final Verdict
Hopefully, we have succeeded in our attempt to help you buy the best jar opener. If you agree, you can now confidently step out and buy the brand and model you desire. There is no need to continue improvising tools to help you open those difficult and stubborn lids. A jar opener is a great gift you can buy for your elderly or arthritic relative to help them with their kitchen activities. In case you find the one you love among the reviews, go ahead and check it out. If not, use the provided in-depth buying guide to settle on a good choice.
You May Also Like To Read